Young Tom and Florence Hickey
121920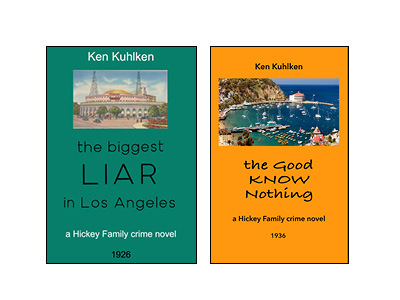 Books One and Two of the Hickey Family Crime novels, signed first editions in the original covers from Poisoned Pen Press.
The Biggest Liar in Los Angeles tells a gripping story about memorable characters and resurrects a time and place that, perhaps more than any, created the modern world.
(L.A. 1926) Unless a famous evangelist will take agnostic Tom Hickey into her confidence, he may never learn if the Ku Klux Klan lynched his friend. San Diego Book Awards Best Mystery.

"Kuhlken mixes historical and fictional characters with an ease that will remind many of Max Allan Collins's Nate Heller series (True Crime, etc.). He's equally adept at melding the murder inquiry with Hickey's personal struggles." ~ Publishers' Weekly
The Good Know Nothing.
(L.A., Tucson, and McCloud, CA. 1936) Author of The Treasure of the Sierra Madre, an outlaw who may be the Sundance Kid, and publishing magnate William Randolph Hearst stand between Tom and the truth about the disappearance of his father.

During the summer of 1936, destitute farmers from the Dust Bowl swarm into California, and an old friend brings L.A. police detective Tom Hickey a book manuscript, a clue to the mystery of his father Charlie's long-ago disappearance. Tom chooses to risk losing his job and family to follow the lead, though even his oldest friend and mentor, fellow detective Leo Weiss, passionately opposes Tom's decision. Los Angeles Book Festival Best Mystery Award.

"As usual, Kuhlken works real people and events into the story (evangelist Aimee Semple McPherson and William Randolph Hearst, for example) and vividly anchors the reader in the story's time and place. The social consciousness and the L.A. setting across decades make this series a fine choice for fans of Walter Mosley's Easy Rawlins novels." ~ Booklist