Writing and the Spirit and Reading Brother Lawrence
91524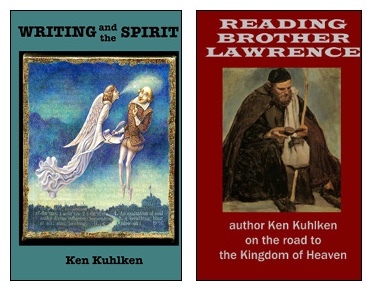 Writing and the Spirit is a guide to living as an artist.
"The themes of Ken Kuhlken's vignettes kept drawing me in: being humble in writing, being generous with giving yourself away, getting quiet in order to write, and how to create a masterpiece that will change someone's life." Philip Yancey, award-winning author of over 20 books, including Where Is God When It Hurts? and What's So Amazing about Grace? philipyancey.com
A must-read for all who hope to change the world.
"In Writing and the Spirit, Ken Kuhlken speaks with all the ease of a friend on your couch. An ingenius, multiple-PhD-holding, wise-man sort of friend, if you have one of those. His observations from the world about us, writers in history and his own experience (failures and triumphs) combine to form an insightful, relevant resource that examines the (inner and outer) confrontations all writers must engage with in order to produce meaningful work. Among them are the nature of inspiration, imagination, and how not to be a hack. He also covers the downright nitty-gritty of the thing – the practical conditions that we all strive for and against in order to produce works in which 'the words and meanings sing. This is an all-around handbook of writerly wisdom that anyone who hopes to change the world must read." Anastasia Campos, writer and photographer. anastasiacampos.com

The perfect gift for every reader who practices an art, including the art of living. In trade paper, signed upon request, with free shipping.
EBOOK. $5.99


Reading Brother Lawrence:
During a troubled time, novelist Ken Kuhlken discovered the book helped him find some peace and promised even more if he could fully understand. Reading Brother Lawrence chronicles his search for understanding.
The Practice of the Presence of God is a classic of Christian literature, loved by Catholics and Protestants, praised by the likes of John Wesley and A.W. Tozer.

This trade quality paperback is especially for readers of thoughtful memoir whose lives have included a search for meaning.

EBOOK. $2.99